After close to a year with the original iPad, I have been playing to the tunes of iPad 2 since a couple of weeks. The iPad 2 brings in a faster dual-core processor, a thinner body and is somewhat lighter. Couple that with the weight difference in the official cover (the smart cover) and the weight difference you would feel is very significant. Apple has retained its pricing for the iPad 2 (at least in US) and surprisingly has launched it in India within 2 months of US launch. In India the iPad 2 starts at Rs 29700 (full details here) and we doubt if we have ever seen people lining up to buy a gadget in India before. So how does the iPad 2 fare?
Now before I get down to give my views on iPad 2, its necessary for me to acknowledge that I wasn't a great fan of tablets last year and you may well read my thoughts on the original iPad and also listen to my rant about tablets on OnlyGizmos Podcast #2. And the change of heart as things evolved thereafter. Before you plan to get a tablet (and I mean any tablet), go ahead and read the first page of the iPad 2 review on Anandtech as well. Thats all I have read of that review and it's enough to tell you that tablets aren't replacing your notebook or desktop anytime soon (quite echos a lot of thoughts I have penned before but all in one place).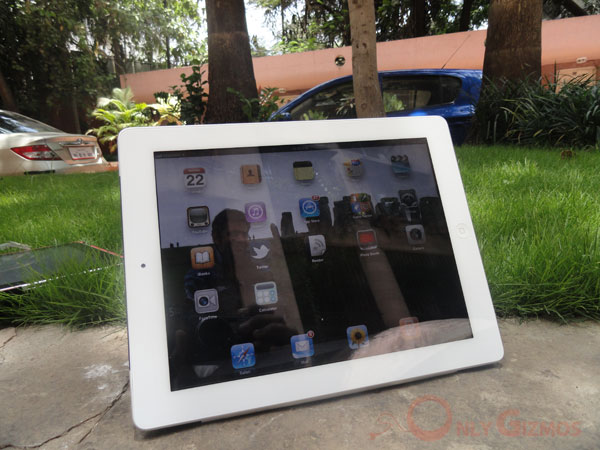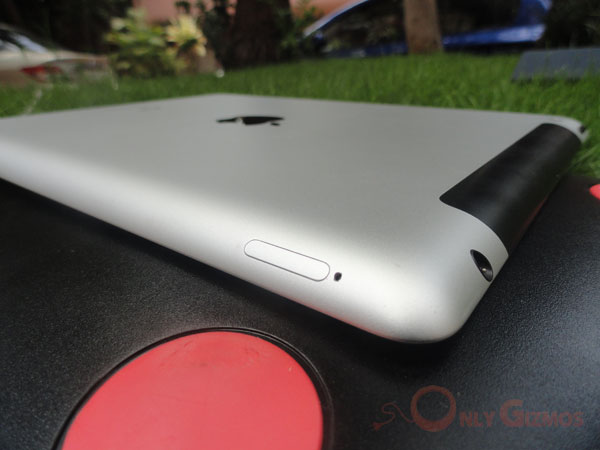 Coming back to the iPad 2, apart from the size/weight, Apple has added dual cameras to this thing and has added a lot of horse power with the new A5 chip. Not much of a surprise but Apple has retained the same display specs with a 1024×768 resolution. But what comes as a bonus is support for mirroring the iPad on a TV via an accessory, giving you a full 1080p output. Playing a game like Asphalt on the full screen with a 5 meter long HDMI cable connected has its own pains and pleasures.
And having a notification pop up when you are racing at 218 km/h is no fun. What I am trying to point out here is, the scope for improvement. Apple has something good out there, but if I am to feel really independent and smart with the iPad2 in hand, there is scope for Apple to take things to the next level.
Out of the few games I tried on the iPad 2, Asphalt 6 may be the only one that can be called somewhat intensive , but it just takes a click on the home button to know how smoothly the iPad 2 handles. It's only after the iPad 2 experience I feel that little lag on my iPad 1 (when switching between games or  simply exiting an app to reach the home screen). Is it a significant difference? No! But you would certainly feel the weight difference between an iPad 1 and iPad 2 when gaming or reading a book.
You would have heard a lot about the iPad 2 cameras and yes add me to the list of people wanting something better. The iPad2 camera reminds me of the iPod touch 4 experience where the day light pictures are ok for tweeting or uploading on Facebook and the 720p video is amazing. Both the photo and video quality tanks when the lighting conditions aren't good. If you have friends having a FaceTime device, the VGA camera is complete 'vasool'.
My mom absolutely loves FaceTime chat with my brother living abroad. Does the lack of FaceTime on 3G hurt? No! I could never do a proper Video call on Skype over 3G when in UK, I see no reason why people feel that a video calling over 3G would work smoothly (its a rare combo to have both parties having a good 3G connection, specially if one of them is in India).
Here is a quick demo video of how well the 720p recording on the iPad 2 works (in day light):
Another little question that I have been asked often is; Black iPad 2 or the White iPad 2? I like the Black one, but I had absolutely no issues on the White one I am using for sometime now. I may be a little color blind, but I can't make any difference between the two of them (note: I don't do intensive reading on my iPad).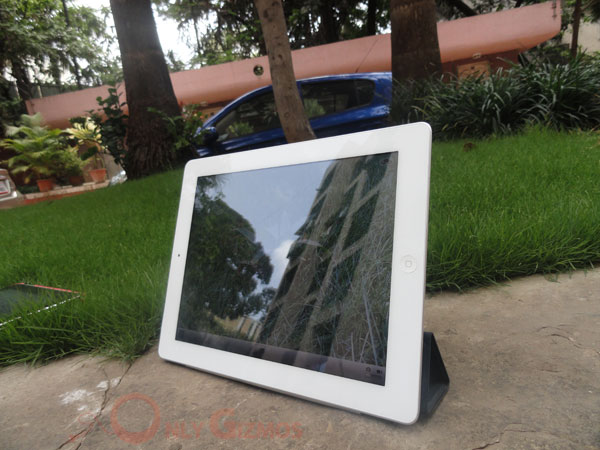 Having said that, am I trading in my iPad 1 for the iPad2? Well, no! Not yet.
The iPad 2 upgrade brings some dimension changes which is a good to have update. Is it a must have? No. I can do with a little extra weight and thickness for now. And given my iPad 1 is old enough, I actually carry it even in local trains (if you know what I mean).
Yes, I do find myself wanting a quick photo on the iPad. To tweet or email or whatever. And given the situation of data and smartphone batteries, I have just one device that has a good mobile internet connection. Thats the iPad! So a camera on the iPad 2 would be handy for sure, but is it something I need urgently? No.
There is plenty to expect from the next major release of iOS. Right from wireless syncing to new notifications, the market is full of rumors about iOS 5. Be it OTA (Over The Air) firmware updates or a tweak to let your iPad talk to other iOS devices, we can run crazy with our imaginations. The dual-core chip in the iPad 2 would certainly be used for iPhone 5 and the next iPod touch. Along with developers, even Apple would want to make the most of the additional horsepower on these new devices.
Given the situation I am in, I have an Apple iPad working for me. It runs on a Rs 99 ($2 )/month EDGE plan (yes thats fine for me) and I have almost done away with regular data usage on my phone. A reason for prefering the iPad is the fact that it's going to stay with me. I keep switching smartphones and that means syncing data. I would keep that discussion for another day, speaking of the iPad 2, I would get it, someday, one day!
For now the iPad 1 works for me, I have my time to see what Apple announces with iOS 5, make my calculations (yes, money matters) and then pick one when I can. But if you are on the fence? Waiting to get a tablet? Well the iPad 2 is the one. Look no further.