LG and Huawei are the manufacturers of this year's Nexus smartphones. While Huawei is manufacturing the larger device, LG is working on a smaller Nexus when both of them are compared. The first image of the LG manufactured Nexus smartphone was leaked today of what looked to be a prototype device. Though the image only gave away the back of the device there are a fair few things that we were able to decipher from the same.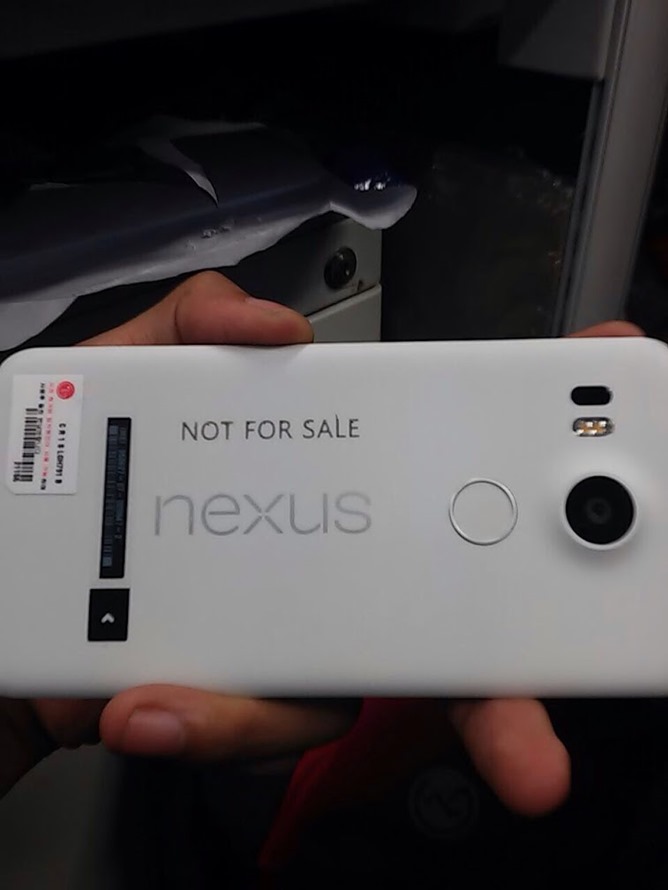 The first being that the LG Nexus 2015 will have a protruding camera, like several of the flagships today including the iPhone 6 and the Galaxy S6. However, the new Nexus does not have a protruding camera as much as that on the Galaxy S6 though it is more than that on the iPhone 6.
Other than that, the Nexus branding is clear on the back and you can perhaps see the LG logo that has been covered. There is a laser auto focus on the rear too, something that we have known all along. The camera resolution is not known yet, though you have a Dual Tone LED flash on the phone. Since there are no speakers on the back of the device, it is worth assuming that speakers are either on the front or on the bottom, case can therefore be made for stereo speakers. You also see the finger print scanner on the back of the smartphone.
The phone is expected to bring a USB Type C port and will have a screen that measures about 5.2 inches when measured diagonally. It is expected that both the Nexus smartphones, including the Huawei Nexus will be released sometime in October alongside the public release of Android M.