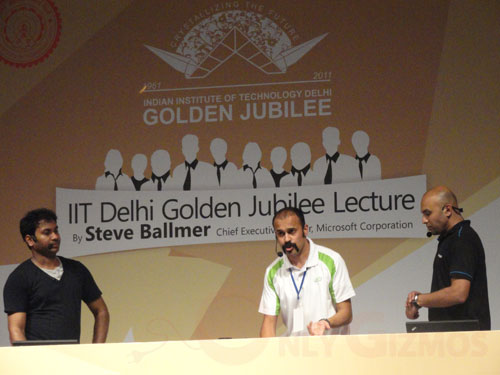 You sure have seen the kind of crazy concepts presented to define the future of our interaction with computer systems, but something that looks future tech and yet available for us today is the Kinect for Xbox 360. In the past we have head  from Ballmer about Kinect coming to your Windows PC.
But we were pleasantly surprised when someone actually demoed Kinect controls for Powerpoint today at IIT Delhi. Steve Ballmer and team was around to mark the Golden Jubilee of IIT D and while we would come back with some more videos of Steve's lecture there, here is a small video of Mr Ramaprasanna an technologist from India using Kinect to control Powerpoint. Shows what Kinect can do! 
Update: We have got a clarification that this wasn't an official Microsoft demo but an independent demonstration by a technologist.