Nokia's latest Windows Phone offerings – the Lumia 820 and the flagship Lumia 920 were finally released in India last month. While we did get to play around with the Lumia 920 on many occasions, thanks to the attention it commanded being the flagship device, the same cannot be said about its little brother the Lumia 820. That said I do understand that we are yet to put up a review of the Lumia 920. We do however hope to do that soon. For the time being however, lets turn our attention to the Lumia 820 which I would be reviewing today.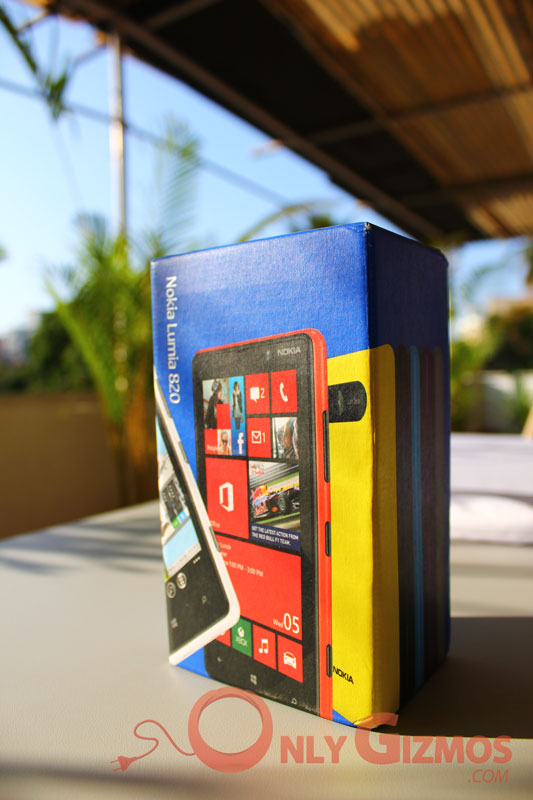 Inside The Box
Before we talk about the looks, let me tell you that the device – like most other phones of today, comes in a puny, unassuming looking box. Inside the box, you will find the standard stuff that comes in them nowadays. Why don't you watch our unboxing video of the phone so you can get a better idea? Here goes.
In case you do not intend to watch that here's what comes inside the box: A single micro USB cable, Nokia's decent set of in-ear earphones with separate sets of earbuds and the charging unit. And no, the Lumia 820 does not come with wireless charging out of the box. You'd need to by additional covers  and charging pads for that. Apart from all these, you have the standard set of quick guides and the telltale pamphlets.
Look And Feel
The phone itself is quite a looker – although visually it is identical to all the premium Lumia lineups, this one though is slightly different in that this one gets a removable back cover and battery with the option to expand the memory as well! The 4.3 inch, 800*480 pixel Clear Black Display dominates the front and is awesome.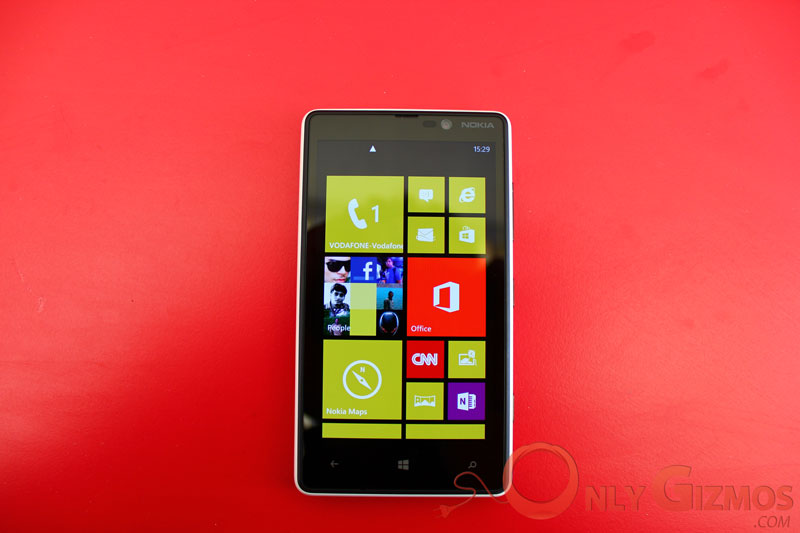 It might fall short of newer, meaner displays with higher resolutions and denser PPI figures, but this one sure stands on its own. Like its unibody counterparts, the Lumia 820 is a slippery customer. You'd need to be careful while handling this phone. In my case, the slipperiness was more pronounced since I was using a Lava Xolo – which is engulfed in a rubbery, durable looking material that literally sticks to your palms. That said, knowing how durable Nokia handsets are, there was never a moment of worry. I am pretty sure that the Lumia 820 can take a decent amount of punishment and live to tell the tale.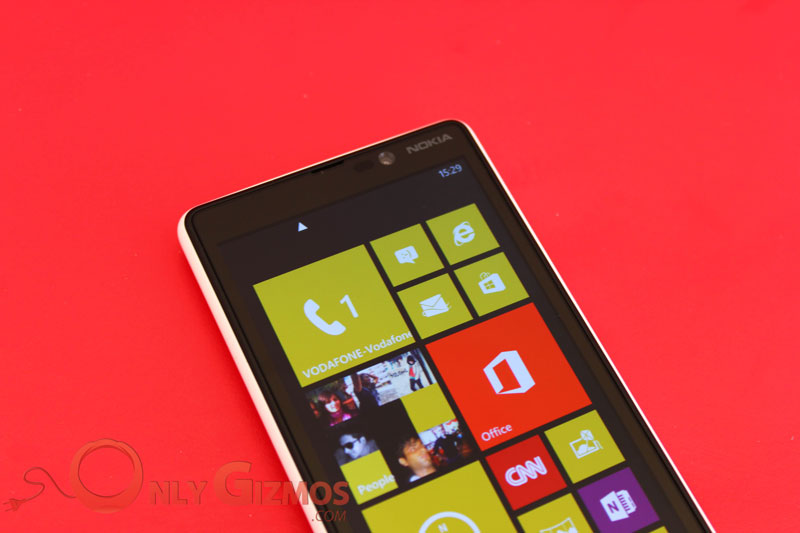 I did not try this on this review handset though. If you are too worried about it getting scratched, let me also remind you that the phone supports replaceable shells – so you can always change to a new one. The size of the device is apt for one handed usage – even for people with small hands. The 820 has a clean design with its left side being completely devoid of any buttons. The top gets a lone 3.5mm jack while the micro USB connector adorns the lower portion.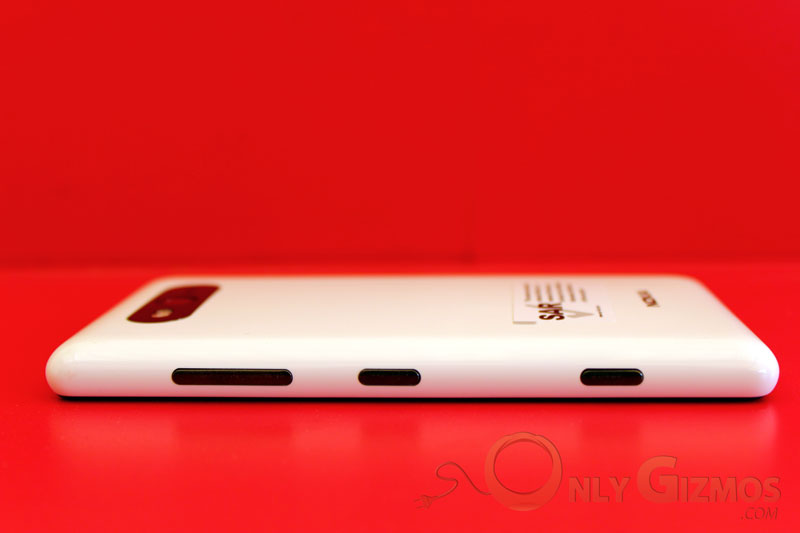 The right side gets the volume rocker button and the power on/off and sleep/wake button. The dedicated camera button is at the lower right.
Software
The Lumia 820 runs Windows Phone 8, the latest avatar of Microsoft's evolving mobile operating system. There is no doubt that it is an awesome platform. However, there are some tiny nagging issues that needs to be fixed. And not all of them are Microsoft's (or Nokia's) fault. Windows Phone 8 brings in lots of much sought after feature additions to the table when compared to Windows Phone 7.xx. The much praised Live Tiles implementation has been improved and you can now easily resize and drag them around and place them wherever you feel like. More changes however are noticed under the hood with the new OS supporting newer generation processors as well as 128 bit encryption which will find favor with corporate buyers. A small but very significant addition is the ability to take a screenshot right from the phone without having to resort to complex procedures.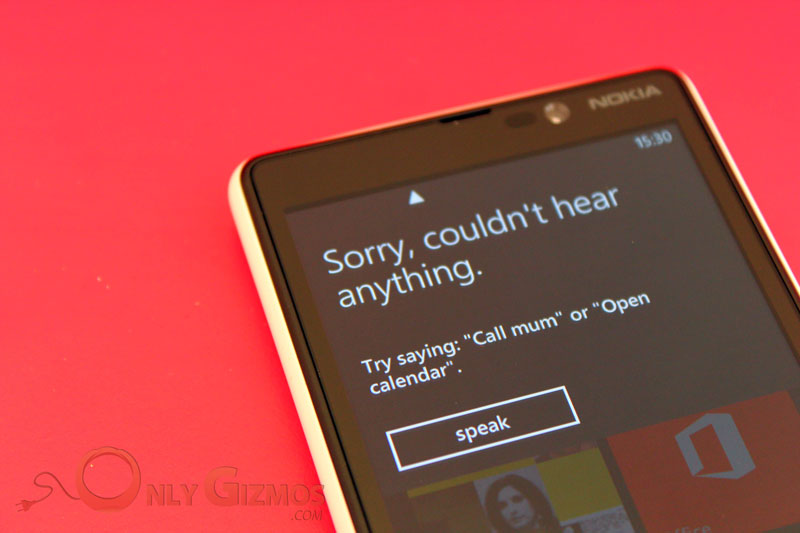 Most of the top applications are available for Windows Phone – except for some glaring omissions like the bunch of Google Suite and Instagram. There are however a bunch of alternatives that would keep most of you happy. WhatsApp – another important application until now used to be a very rudimentary application on Windows Phone especially when compared to its Android and Symbian counterparts. A recent update however fixed most of the issues we hear.
Watching video on this phone is a joyful experience – but again, there are devices with better displays out there, but surely, this won't disappoint you. The YouTube application for Windows Phone is better not installed on this phone as it is basically just a link that opens the YouTube mobile website on the phones' browser.
Notable Bits
Music Fans would love the Nokia Music app that is bundled with the phone. This is an awesome piece of software that would let you download and share music files (albeit of lower quality) for free – and legally. In the few days that I used the phone, I thoroughly enjoyed using this app and downloaded scores of music tracks. The quality won't please an audiophile – but I ain't one! For those who have a wider taste for music, you can always tune in to Nokia Mix Radio.
Camera
The camera on the Lumia 820 happens to be an 8 megapixel autofocus camera with the ability to capture videos in full HD. By default, the video resolution is set to 720p and you may want to change that before you start your full HD adventures.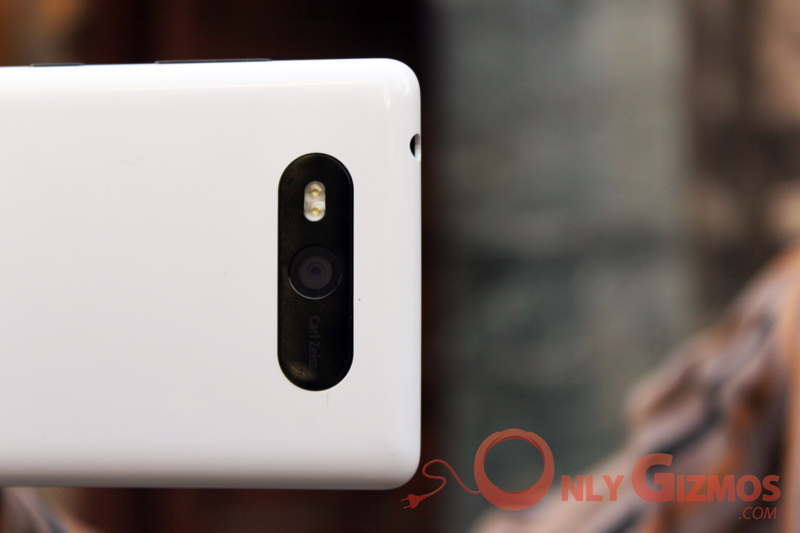 The Lumia 820 misses out on both the top camera features that you would find on the more expensive 920. We are talking about the PureView camera and the OIS (Optical Image Stabilization) capability that should ensure a very stable video even in shaky environments. That said, the camera is still pretty good compared to what we have seen on devices in its price range.
Here are a few sample shots. Click on the image to see them in full size.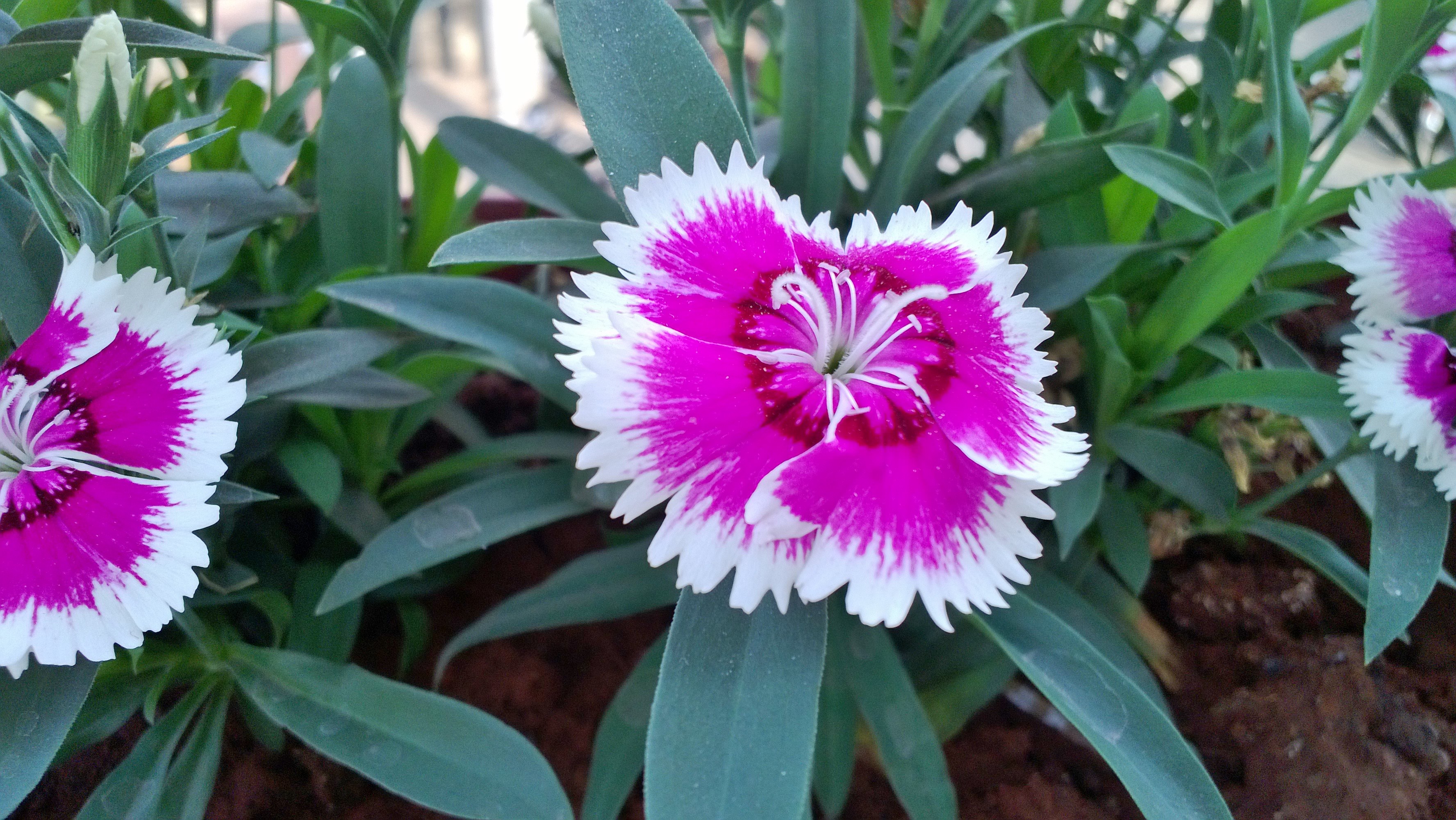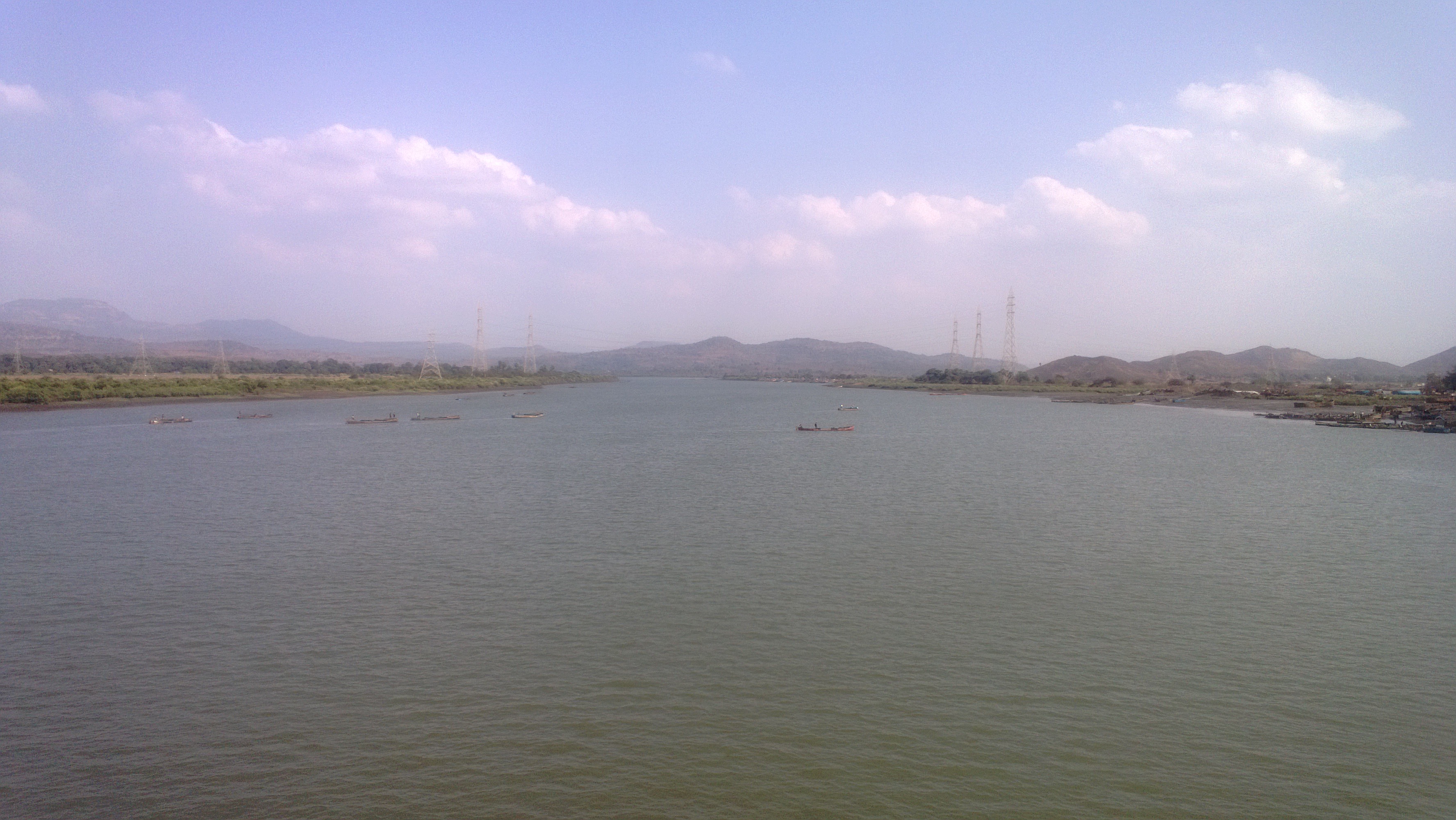 Like most other Windows Phone devices, the built in image editing software does a good job of fixing photos that you thought were bad. One thing I noticed was the fact that I was unable to change the size of the captured image. At this moment I am unsure if that option is absent or it is hidden somewhere deep inside the menu. The Lumia 820 thankfully has a dedicated camera button which is a boon for camera button purists like me. That said, I would have liked to see that button being a tad more responsive as it is quite recessed inside the body. Just a minor gripe.
Performance
The Lumia 820 is powered by a Qualcomm Snapdragon S4 SoC that holds a dual core processor running at 1.5 GHz. This coupled with the 1 GB of RAM ensures that the phone never feels underpowered. In the two weeks, I used the phone, I almost filled up the internal 8 GB of memory (only 7 odd GB is available for storage) and never did the phone just die on me. It did get stuck one or two times – but that I believe was due to some crappy apps I was trying to install. I did not use an extra SD card with the phone – but for people finding the on board 8 Gb insufficient, you can always add more space.
Battery Life
The Lumia 20 sports a removable 1650 mAH battery that on an average lasted me for about 12 hours of usage. Note that I was almost perennially connected to a 3G connection – but wasn't using the phone all the time.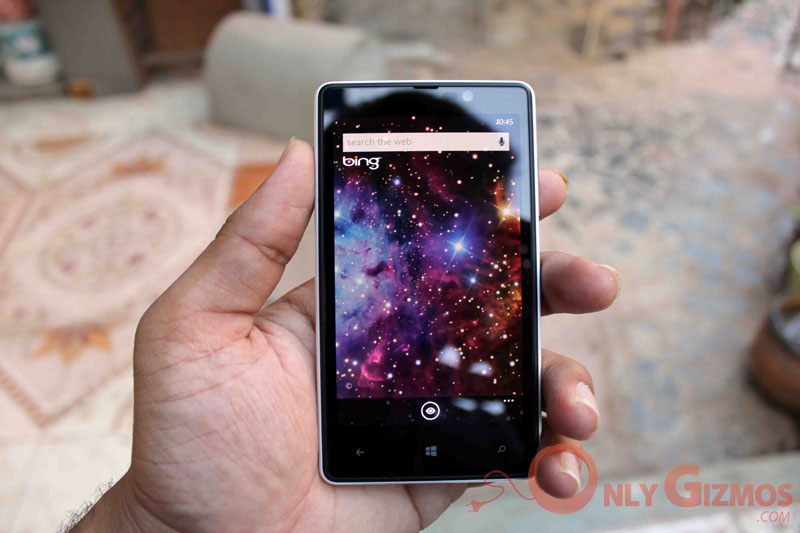 I have this weird habit of keeping the scree brightness at maximum levels and I am sure the phone would last you a day with normal usage – which in my book constitute a few calls, about an hour of web surfing and about 30, 40 minutes of video watching. For the heavy users out there, I suggest either getting an extra battery or simply get a power pack. The Lumia 820 also supports wireless charging – albeit you would have to buy the separate Wireless charging compatible back panel plus the mats separately.
Conclusion
The Lumia 820 is no doubt a great phone. The problem with it however lies with its price – which currently hovers at around the Rs.24,000 mark. This price band has a lot of options if you wish to opt for an Android device. Google's operating system is a much more "developed" platform in its current state. That's not taking away anything from Windows Phone – which is a platform I absolutely relish using. However, the lack of quality apps for Windows Phone makes me stop short of recommending this one for users at its current price. A few months from now however, the Lumia 820 would make an attractive mid-range investment – and we hope the apps eco system would get more mature by then.