Recently Google released Voice Actions using which one can control their Android phone just by speaking. But sadly that is only available for Android 2.2 (Froyo). Read this post and know how to achieve voice action's effect on your Android 2.1.
The moment I saw Google Voice Actions video and read the official Google Mobile blog post about it, I became so excited to get my hands onto this latest innovation. But sadly when I checked the market and read more about it, I came to know that it is only available for Android 2.2. I felt sad, but then I began searching the market for finding a workaround, a single app or multiple applications that work the same way as Voice Actions for Android does.
After doing little research, finally I found something that does what Google Voice Actions does and that too pretty neatly. The name of this app is Vlingo (A free App) and you can download it by searching the name in android market or from the code below.

So once it gets downloaded, open the app, agree to license agreement, go through the mini tutorial and then you are ready to experience the magic. You can very well use this app to speak to send text messages & emails, update Twitter, Facebook, Buzz, dial phone numbers and more.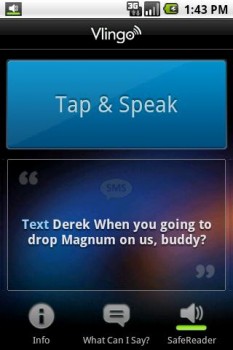 Please note that in order to use this application you need voice to text installed on your device. Follow our previous post Use Speech to Text on your HTC Hero (Android 2.1) to know how to get it on your device if its not yet there.
Please leave comments if this worked for you or if you too have some other applications on your android device that works like Google Voice Actions.