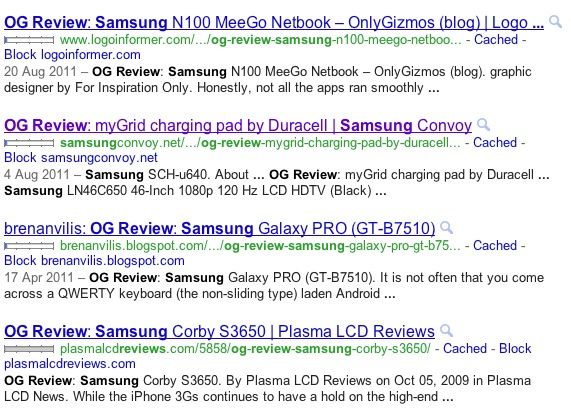 OnlyGizmos.com would stop offering full RSS feeds effective immediately. RSS feed provided henceforth would be restricted to a short summary.
We have largely kept silent on our official channels about the Google Panda update, but if you have been around on Twitter or have followed my personal blog, by now you probably know that we are in a bitter battle with spammers ever since Google rolled out the Panda update worldwide in April. We have reported numerous content scrapers using the Google 'report a spam' feature and at the same time filed hundreds of DMCA requests. However as time passes, it is clear that Google is losing the fight against scrappers. They recently asked for help publicly.
One of the easiest ways of copying content is RSS. Many plugins and scripts allow that and our experience over the past few months tells that it is the single most commonly used tool against us.
We have been patiently dealing with this since few months and have tried our best to keep up the editorial momentum even as our team gets into the time consuming process of tweaking site backend, detecting scrapers and filing DMCA notifications. We couldn't help but take the call today after thinking over it for several weeks now. We are a small startup and burning resources to fight scrapers day in and day out is not something that best utilizes our time and energy.
As a reader, I personally hate subscribing to sites failing to offer full RSS feeds, and I can understand that a lot of our regular readers would be troubled by this decision. We apologies for the inconvenience. We are working hard to generate good content, and, at the same time we continue to work with Google for fixing this issue. We are making use of all tools made available to us via Google's Webmasters dashboard, and we would be eagerly waiting to find an opportunity for switching back to Full Feeds. Until then, we would request you to please bear with us.
You can keep yourself updated on the latest from OnlyGizmos on Twitter / Facebook / Email or RSS