There is always a first time. Well, the saying came true for Google's Google+ app, which for the first time has been updated for the iOS before it got updated in the Android platform. This is all the more surprising considering the fact that the Android platform is owned by Google.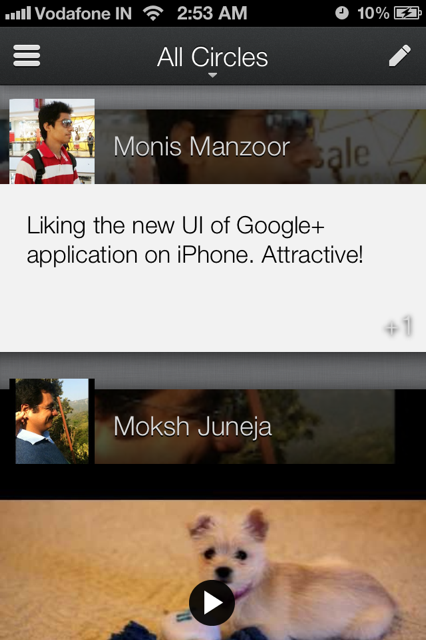 Perhaps this might be a calculated move by Google to garner some iLove. Although surprising, it does make sense from the business perspective considering the fact that Google generates so much revenue from the iOS platform and hence it's okay for Google to offer the iUsers some benefits once in a while.
At the same time, I must add that this move by Google might not go down with its passionate Android army, let's say that they would not be really pleased by the move to say the least. Vic Gundotra, Google's Senior VP has promised the Android users an update shortly with a "few extra surprises" which obviously means that there would be better features in the Android app compared to its iOS counterpart. Though, we doubt if that would be enough to pacify the Android users.
Coming back to the newly updated Google+ app, it brings a revamped home screen, larger profile pictures and better looking fonts. And did we say that it looks freaking gorgeous? It absolutely is. Personally, I would be forced to use Google+ everyday just so that I can take a look at its beautiful UI. Don't take our word for it, just go ahead and update the Google+ app NOW!
Perhaps, the Android users can take a look at a few pictures of the new UI for now, until they get their dose of the updated Google+ app. 😛