In the much awaited Google's I/O 2015 in San Fransisco it announced a revamp to its already existing photo sharing app – Google Photos. The best thing about it is UNLIMITED STORAGE! Yes, you can do unlimited backup of your photos and videos on Google's cloud for upto 16MP of photos and 1080p for videos for free. Starting from today, the service is going to roll out to Android, iOS as well as web.
Photos which were previously integrated with the social networking site Google+ has now separated and will now be available as a standalone product. The relaunch of the Photos app, will now provide users a private and a secure way to share their photos from a single destination.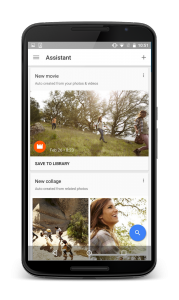 The free storage option would be useful to those with the point-and-shoot cameras because it will let you keep a copy of your photos which is good for photo-sharing needs. However, those with DSLR cameras who want to store their photos or videos in the original high resolution size can choose a different plan which lets use your Google account's 15GB of free storage. This was available before, too and you can add to your storage quota as needed.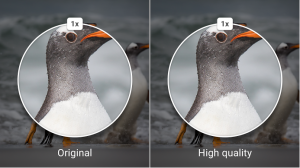 The photos clicked on the device are automatically backed to the app. Moreover, the photos are sorted according to the date stamp and one can scroll to the images of previous months. The best part is that although it appears that the images are saved locally, the images are saved on cloud which saves a lot of space of device's internal storage.
Google's Photos can automatically sort photos based on the people present in the photos and places. One need not follow the process of tagging all of them, it can do it without it because of the app's learning capabilities which is much better than Google+. This feature will simplify search without requiring tagging or such similar effort from the user side.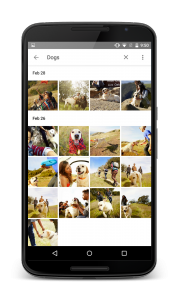 Moreover, the app lets users do more with their photos without requiring much effort through a swipe to the left. The swipe will present an "Assistant" feature which will offers suggestions. For eg: it might build a montage of your video or a timelapse of your recent photos. This is an update on Google+'s earlier "auto awesome" feature with an improved user interface. In addition to montages and collages, Google Photos will also help you build GIF-like animations, movies with soundtracks and much more.
And lastly, the Photos app has also seen improvements in sharing photos. The apps lets you select images in a group just by swiping over them and when sharing images to friends, they will receive a web link from where they can view or download the images which are shared regardless whether the recipient has the app or not.