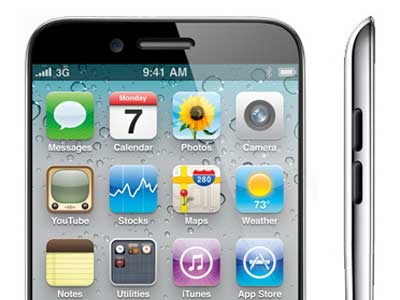 After the entirely software oriented 
WWDC 2011
, it's high time that Apple shifts its focus towards the hardware. There is no doubt that
iOS 5
had some of the most sought after features that an iPhone, iPod touch or iPad user always desired for; Stuff such as
iMessage
, revamped notification, newsstand, reminders etc are all welcome. But we think, its time the iPhone 5 is out, especially in the wake of renewd cmpetition from the Android quarters.
The rumors of iPhone 5 launch have already started prevailing and each source claims its own specifications. It seems that September or August are most likely to be expected months for the release. Perhaps, the availability will be in August so far.
Let's check out what these sources have to say about the iPhone 4s/5 launch :
1) One of the BGR sources claims that the iPhone 4S/5 will not feature any change in the design. Instead, it will have improvements in the internal hardware which includes the A5 processor (dual core) & 8 megapixel camera. Another source contradicts the statement and says that the next generation iPhone would have a revamp in the design in addition to the upgraded hardware. They also add that Apple will hold another event in August for the much awaited announcement.
2) Now, Bloomberg sources have entirely different stories. According to them, Apple will announce the iPhone 5 in the 'Music event' which is not different from their usual schedule . Here, the company would showcase the future of their next generation iPod touch. Their sources, who don't want to be named said that the Apple is also working on the iPad 3 which has a high resolution display (retina display), similar to iPhone 4. However, their claims for the change in internal hardware are pretty much same as BGR. But there is no confirmation about the revamp in design.
3) Some other sources claim that  the iPhone 5 will feature a dual LED flash. Earlier, we had reports from the Chinese sites that Apple would change the position of flash and implement a thin bezel, thereby increasing the size of screen from the standard 3.5 inch display to something larger (at least 4 inch). This could be the reason that Apple is trying to create more space in the iPhone 5. The probability for Edison Opto to become the LED suppliers for next generation iPhone is high due to their production of powered LED flashes to other vendors in the market.
4) Recent appearance of Apple COO Tim Cook also indicates that iPhone 5 may feature the 4G LTE technology. So, we can expect an iPhone 5 to support the LTE from majority of the carriers at the time of launch this year.
Let's wait till August or September to know if any of the above rumors will turn out to be true. I hope that you all are excited about the iPhone 4S/5 launch in coming months.