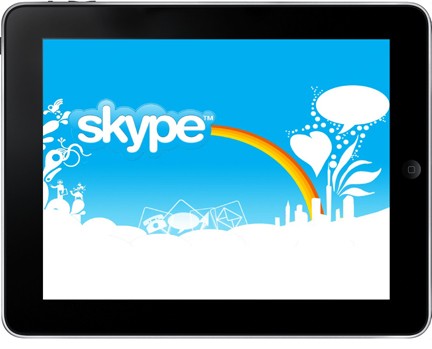 After Facebook for iPad, it seems that it is the turn of  Skype to release the iPad version. Skype accidentally published a video on YouTube which was then marked as private. But  RazorianFly didn't miss a chance to record the screening video and republished it on YouTube to show its existence earlier. Skype is a VOIP client which has been purchased by Microsoft, and we would expect to see its integration in Windows Phone 7 device later this year. 
Though, there is no volume in the recorded video which you can see that the whole of the Skype application has been optimized for the iPad interface. It appears that the application holds more meaning for the iPad 2 due to the front facing camera rather than the first generation iPad. However, there is no confirmation yet that this video is real or fake. But through all the gestures and the UI (User Interface), we can predict that Skype application for iPad may arrive soon in the App Store.
Update : Skype has confirmed that iPad application for iPad exists in reality. Folks from TUAW contacted Skype Vice President of product and design, Osterloh who said that the app is in beta testing for a few months now. He told them that those few features in Mac/Pc didn't compel them to build this application. Instead, it is the ability of the iPad to do the file sharing. Before iPad 2 launch, company was satisfied with the Skype iPhone app working on the first generation iPad. But the front-facing camera made it 'super compelling'.
Osteroh also added that this is super release for the company and Apple has been extraordinarily  'super supportive' of their work on the application
Have a look at the video and let us know that what do you think about it?
Update: Skype Qik 
With a plethora of applications such as Whatsapp, Viber and line to name a few. Skype has faced the problem of having to constantly reinvent itself. The new addition Skype Qik is the first ever application released beside the Skype app itself. Skype Qik is a free video messenger service. This application allows you to create groups; pre-record and the share video clips. These clips once shared and uploaded can also be deleted. No user names or login passwords are required.
Skype Qik has been released for both iPhone and iPad users and has been well received so far.
Here is a video clip demonstrating the application
You can read more about Skype Qik here.