People who are into unusual smartphones have been keeping their eyes on Indiegogo campaign. Yota is bringing the Android-based YotoPhone 2 to the U.S. market today. This phone is the world's first phone with dual screens and is YotaPhone's sequel.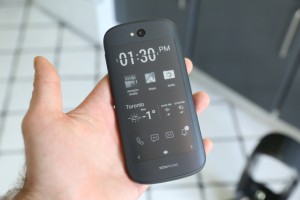 The device has two screens, the one on the front is a 5-inch Amoled Display and the one of the back is a 4.7-inch e-ink screen. The technology by Yota let's the content to be sent from the color screen to the always-on rear screen for decorating, reading or information purposes. The phone will be updated to Android 5.0 Lollipop this summer.
The company will launch the smartphone in North America market this summer and currently is taking the pre-orders at $500 for the initial buyers. Yota is looking up to raise $50,000 via the two month-campaign that will be used for the certifications and regulatory fees which is required to launch it in the market.
Some of the features by this phone include Electronic Paper Display which is always on but the company claims that it consumes lesser energy. Along with it, the screen is perfectly readable even in the brightest sunshine. With this device, one won't have to carry around an other smartphone or an e-reader.
The battery life of this phone is not in hours but in days. The device provides five days of reading on a single charge along with 2 days of basic smartphone functions. The company also states that along with the YotaEnergy application, one can also get a few extra hours.
The device can be customized according to the user. The full-touch EPD display lets the user create multiple dashboards with widgets for Fitness, Music, Email and various other applications.