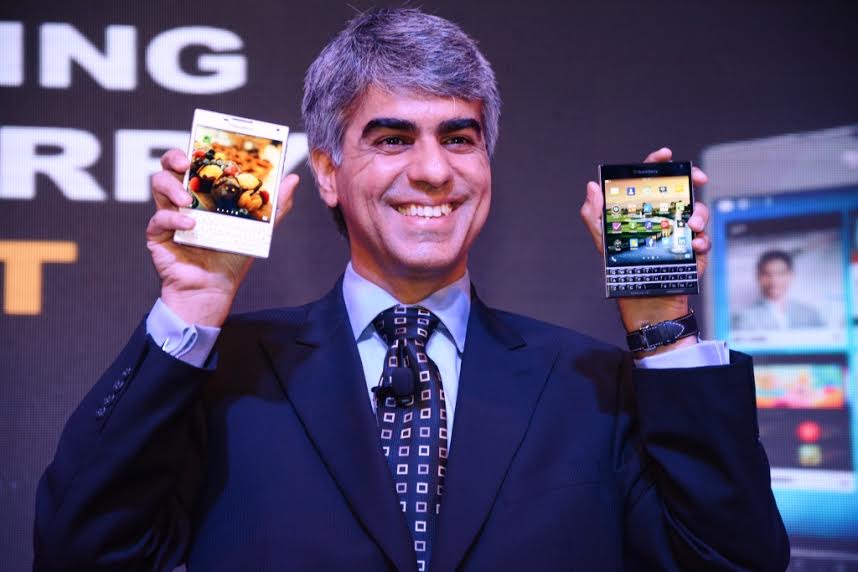 Struggling smartphone manufacturer BlackBerry has launched a new smartphone called the BlackBerry Passport, which is probably their last attempt at surviving. The BlackBerry Passport includes a 4.5" square screen with a 1:1 aspect ratio, 1440 x 1440 pixel (453 dpi) HD display. It has an all new keyboard which has a responsive touch surface like a trackpad and lets you perform many touch functions directly on the keyboard. You can scroll web pages, flick to type or slide along the keys to move the cursor, leaving the full screen space for viewing.
The phone will run on BlackBerry OS 10.3 which comes with features like  BlackBerry Assistant, BlackBerry Blend and Amazon Appstore. BlackBerry Blend brings content that is on your BlackBerry smartphone to your computer and tablet. BlackBerry Blend is being introduced on the BlackBerry Passport and will work across desktop operating systems, including Mac OS X 10.7 +, Windows® 7+ and Android™ tablets running Android 4.4+ via cellular, USB or Wi-Fi connections. BlackBerry is also working to bring the Blend experience on other tablets soon. Users can access popular consumer apps through the Amazon Appstore, including the latest Android games and apps, such as Minecraft – Pocket Edition, Candy Crush Saga, Pinterest, Temple Run 2 and Cut the Rope 2. The BlackBerry Assistant is BlackBerry's first digital assistant and can be used with voice and text commands to help users manage work and personal email, contacts, calendar and other native BlackBerry 10 applications.
"It is a matter of immense pride to launch an industry defining product as we continue to build on our productivity portfolio. BlackBerry sets yet another benchmark with the BlackBerry Passport, that will radically transform the mobility experience of today's power users and enable them to achieve more," said Sunil Lalvani, Managing Director, BlackBerry India. The smartphone is available for pre-booking at Amazon.in and at all BlackBerry Exclusive Stores from September 29th, 2014 to October 10, 2014. Since the phone has very different dimensions; which people may not be used to and is steeply priced, we doubt it may do much to turn the company's misfortune.